For over two decades Rosie's has provided great food, fine beverages, music, dancing, and a welcoming environment for the whole community. "Ceade Mile Failte! 100,000 Welcomes" is not just a slogan, it's our mission statement. Serving Irish Pub fare with a homemade flair, in the heart of historic downtown Santa Cruz and Santana Row.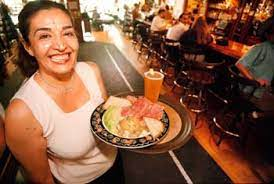 Dear Santa Cruz, 
My name is Mina Shamsaei. I have owned Rosie McCann's since 1997. From the moment I bought Rosie's the people of Santa Cruz have welcomed me with open arms.As an immigrant who left corporate America to pursue her dream of running a restaurant that would be a family place of gathering I wasn't sure if people would accept me.
 I was pleasantly surprised how well received we were. For nearly 25 years we have been a staple in the community serving customers traditional Irish Fare and Californian cuisine, always emphasizing great quality foods and traditional welcoming Irish hospitality. We have truly embodied the traditional Irish saying Ceade Mile Faite 100 thousand Welcomes! Not only has the community welcomed us with open arms, but our employees over the years have been a tight knit family that has allowed us to thrive. We owe our success over the past 25 years to our employee family and the community of Santa Cruz. With that being said, we believe we are finally ready to re-open and serve our community again just in time for our 25th anniversary. We would love for everyone in the community to come celebrate our anniversary and support our small family business this week! After all, the community of Santa Cruz is our family. With lots of love and gratitude,
Mina Shamsaei
In 2004, Mina expanded Rosie McCann's to Santana Row. This was a large project as there was no existing restaurant in place. The blank canvas allowed Mina to use her design skills to curate the perfect restaurant. Using the highest quality materials, a custom Wallace and Hines Bar, the restaurant was opened in June of 2004. Before even having a grand opening, Former President Bill Clinton stopped by for dinner. He had a mojito and our classic Irish Banger sausages. For the past 18 years, Rosie McCann's has been a staple in Santana Row, providing a high end pub experience, with great food, custom cocktails and a local spot for people to dance. Many people know Rosie's is the place to go out on the weekends. However, a lot of people are surprised to learn how delicious our food is. Not your average pub experience, but elevated to provide everything you want in a local restaurant.
The Star of the County Down
The star of the County Down is an Irish Folk song about love at first sight, it starts wing a young man spotting a beautiful young girl walking down a boreen – a small country lane – one summer morning. She has bare feet and is a poor girl, but that does not diminish her beauty. Infact, she is so stunning that the young man is so taken he has to shake himself to make sure he is not dreaming. She is not just the star of the County Down. She is also known to be the most beautiful girl in all of Ireland. When the young man asks a passerby about her, he is told that she is 
"Rosie McCann from the banks of the Bann, She's the gem of Ireland's Crown".